Bike Racks for Suvs
SUVs are a favorite for outdoor enthusiasts from all walks of life. They offer better mobility on the trail with more space and a better ride height than a car. They are also capable of towing which increases the load capacity. Whether you are a snowboarder moving your equipment or a cyclist with a bike rack, having an SUV is necessary for you to access the best locations. Their fuel economy, which was a big deterrent for many, has greatly improved and this makes it possible to use one as your daily driver!
In this article:
What to consider when selecting a bike rack for your SUV
Before you buy a bike rack, you need to look at your biking needs in relation to the options in the market and see what matches those needs. Here are some factors that are important to consider:
Bike size
The size of your bicycle is an important factor to consider when choosing your bike rack. Although bike racks nowadays are made to accommodate various frame sizes, weight, and tire size are still a consideration. This particularly affects fat bike and electric bike owners, since those tend to be heavier and with more tire width in comparison to road bikes. It is important to respect the weight rating on your bike rack to avoid catastrophic structural failure during transportation.
Installation
Some bike racks require some assembly upon delivery which can be challenging to some people, and an additional fun puzzle to others. If you are not keen on putting your rack together by yourself, then avoid options that require installation. Some bike racks also require some tools for installation while others are designed to slot in tool free.
Regularity of use
How regularly you drive with your bike will determine whether you get a platform-type or a hanging-type bike rack. A platform bike rack is good if you are a regular biker while hanging racks are good if you are an occasional rider.
Other accessories
Accessories are used to make alterations to your bike racks to enable them to work under certain conditions that are different from the default. Some accessories raise the number of bikes you can carry on one shelf which is essential to consider if you ride as a group or family. Others help the bike rack slot into your hitch more securely while others secure your bike more firmly to the rack frame. All these accessories however represent extra costs and you might think it is worthwhile to spend less.
The type of rack
Certain bike racks are not suited to "working" SUVs. For instance, fitting a rooftop rack to your vehicle is ill-advised especially if you also take part in other outdoor activities. This space can be used for other important accessories such as a tent, recovery gear, additional fuel for the trail, and even solar panels for recharging auxiliary batteries.
Rack carrying capacity
When considering the capacity of the rack, think about the number of bikes it can hold, and the total weight of the entire set-up. If you are always working with many bikes, then you are better off getting a rack with a higher carrying capacity. Lower capacities (Single and double carriers) are suited to single adventurers or couples. The max weight of the rack should suit the type of bike you have. Fat bike and e-bike owners should pay attention to this since it is critical for the safe transportation of their bicycles. Remember, carrying above the recommended weight may cause failure in key components and your bike/s could be a mangled wreck on the I-90.
As a cyclist, having a utility vehicle gives you a host of options when it comes to transporting your bike. From hitch to tire mount bike racks, selecting the right bike rack for your SUV might be difficult. Here are some of the bike racks that are worth taking a look at:
Price Range: (Base price $189)
Pros
Pocket-friendly pricing
Great for beginner riders
Decent weight capacity
Folds into a compact design when not in use
Cons
Frame straps may not fit larger bikes. You might need to accessorize.
Some assembly is required (might be challenging for some people)
This is a hitch bike rack that fits most SUVs. It fits into 1 ¼" and 2" receivers and uses a platform where you secure your bicycles using a clever system of straps and wheel trays. It comes with a no-wobble bolt to ensure easy installation into the hitch with no movement. The frame of the rack is made from strong metal to ensure its durability against the stresses of transportation; you are moving with metal bikes after all. The powder coating is durable and will have your rack looking good even after a few years of constant use. The straps are padded to reduce the chances of damage to the paintwork on your bike.
The Allen Easy Load 2-Bike rack fits various bike sizes and styles, including BMX bikes, up to 35 lbs each, with a 70 lbs load capacity. This is excellent for people who take their mountain bikes out to the trail since these tend to be heavier than other bikes, especially older models. One of the main concerns to installing a bike rack on your SUV is tailgate access, and the Allen Easy Load tilts back to allow for this. It also folds up into a compact package that allows for easy storage, whether in the car or the garage. As is with most Allen products, there are replaceable parts that can be bought in case of damage or just misplacement during storage. Although it can also be installed on cars, this bike rack is not designed to be used on any sort of trailer. It works best with SUVs and Hatchbacks.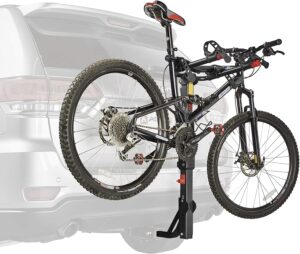 Price Range: (Base price $239.95)
Pros
Best for Fatbikes and kids' bikes
Designed for easy loading and unloading
Works with other Yakima products such as the Straightshot Hitch extender
Lifetime warranty
Folds when not in use
Cons
Vulnerable to rust when exposed to a salty environment (If you live near the sea for instance)
The two-timer tray bike rack is one of the more affordable stand-alone products from Yakima. It is designed to transport various bike types and sizes including fat bikes, kid's bikes and fenders, and wheelbase sizes of up to 48". With an upper limit of 4.5", you do not have to worry about wheel width. You can easily secure bikes with wheels up to 3" wide but you will have to purchase fat straps for anything wider than that. The maximum weight allowed in the rack is 90 lbs which is better than some of the other 2-bike carrier racks in the market.
This fits into the normal 1 ¼" and 2" hitches that come standard with most SUVs. The tray is set low to allow for easy loading and unloading which is great for people with body strength issues or some form of disability that makes lifting weights of 30lbs and up difficult. It is designed to fold for easy storage in your garage, and even when loaded to allow for easy opening of the rear of the vehicle. This bike rack comes with a lifetime warranty and replaceable (serviceable) parts.
The Yakima Two-Timer Tray hitch bike rack has two weaknesses that may be a nuisance. The straps become brittle over time and after about 4 years of use you will have to replace them. The frame is vulnerable to ravages of salt and will rust over time; this is something you may have to think about if you live near the sea or a lot of road salt.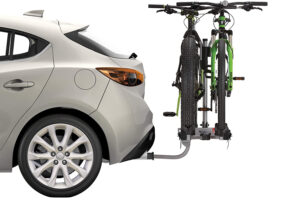 Price Range: (Base price $799.95)
Pros
Tool-free installation
Fully lockable for additional security
Secures bikes without contact with the frame
Lifetime warranty
Aluminum components for longevity
Cons
Pricier than most of the competition
The Thule T2 Pro XTR is a bike rack that is targeted toward biking enthusiasts looking for a premium option in the market. The frame is made from lightweight aluminum for better durability without compromising on flexibility. It is robust enough to carry e-bikes up to 60 lbs without damaging the platform or hitch connector. For convenience, this rack comes with wheels on the platform to help you move it from the garage to your car and an easy auto-attach system where you don't need tools to install it on your car. The hitch connector is available for 1 ¼" and 2" receivers
This bike rack for SUVs comes in a versatile design that fits bikes between 20" and 29" in size, and a tire width of up to 5". There is no contact with the frame and the adjustable spacing allows you to position your bikes most safely. The Thule T2 Pro XTR also comes with an integrated cable lock, and lock knobs to secure your bike when you are away from your vehicle. Although this security feature is preinstalled, it is recommended that you get a more secure lock that is harder to break. The HitchSwitch lever is handy when removing luggage by tilting the rack to allow access to the back, which is helpful if you have other activities such as camping planned along with your ride.
There have been reports of j-hook failure when transporting heavy bikes, which contributes quite a bit of sway to the bike rack and the SUV in general. You should also make sure to weigh your bicycles, especially electric models. Although it is rated to carry e-bikes, the set-up is not very secure.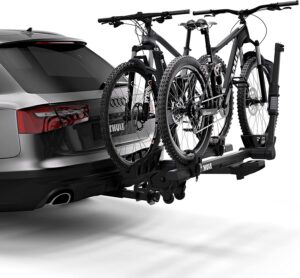 Price Range: (Base price $629)
Pros
Foot lever for easy operation
Lightweight minimalist style
Front tire hook for stability
Slim inner channel for added safety on road bikes
Cons
The integrated lock feels flimsy and easy to break
Rear wheels on larger bikes may hang off the rack
The Kuar Sherpa 2.0 is a bike rack for SUVs that is made from aluminum using a minimalist design that is easy to use. It is made to carry 2 bikes weight 40lbs each and wheelbases of up to 47". For an elegantly styled bike rack, the Sherpa 2.0 offers 14" between the two bikes which is more than adequate space. The no-tool install system makes the whole process easy and it takes around 15 minutes to complete. This is a great option for cyclists with slim tire bikes or road bikes, thanks to the slim channel in the wheel base that cradles the front wheel and offers additional support when in motion. The rear tire is also supported by co-molded straps for added protection.
For convenience, this bike rack comes with a lever that can be operated using one hand or even your foot. It pivots the entire rack down so your bike is at a 45-degree angle, thus providing more space to access the trunk. There is an intuitive design to the front tire ratchet which makes it possible to place the bike onto the rack, balance and lock it in without help. There is a semi-integrated locking system that comes with it for the safety of your car, and although it is adequate, it would be best if you got a sturdier option. One of the few drawbacks to this bike rack is that this bike is not good for fat bikes. You need to purchase a cradle adapter, which is an added cost. As far as bike racks for SUVs go, this is in direct competition with premium brands such as Thule T2 Pro XTR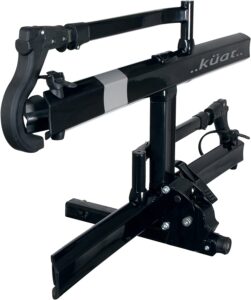 Price Range: (Base Price $399.99)
Pros
Durable alloy steel construction
Foldable design for easy storage
Heavy carrying capacity (160lbs)
Accommodates large tire size
Single key locking system
Cons
An adapter is needed to use with most step-through frames
The assembly is a bit complicated and requires patience
Only fits 2" hitches
As e-bikes are getting more popular among cycling enthusiasts, the Hollywood Sports Rider For Electric Bikes is the perfect solution as a bike rack for your SUV. Everything about this rack is built for endurance and to carry heavy loads. It is capable of carrying two electric bikes, each weighing up to 80 lbs and up to 5" tire width, and this is an area with few quality options. The frame is internally reinforced and comes with an external brace, all designed to shoulder heavy weight over long distances. There are heavy-duty wheel holders and a safety strap that secures the bikes to each other, and to the central post, for added safety. The bike rack also incorporates a special hitch tightening system, a locking hitch pin and locking frame clamps to secure your bike, and a patented "no wobble" system which removes any slack between the receiver and the rack without needing tools.
Although built primarily for support, the Hollywood Sports Rider For Electric Bikes offers some convenience as well. It folds up against the car when not hauling loads which is useful especially when parking. There is a tilting feature that gives you better access to the luggage area of your SUV as well. You don't get much in terms of "luxury" but this rack makes up for it with sheer sturdiness. You are however required two-wheel adapters for certain bikes for this rack. If you have a step-through e-bike, you will have to spend more on an adapter as well. This bike rack can only be used on SUVs with 2" hitch receivers.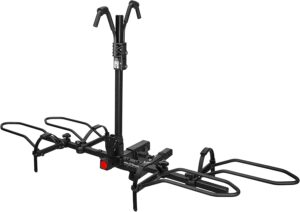 Price Range: $299.99
Pros
Reasonably priced
Multibike carrying capacity (Up to 4 Bikes)
Extra long hitch lock to accommodate various tire sizes
Large padded spine to protect your bike
Rapid unlock and tilt away feature
Works with Jeep Wrangler JL models
Cons
Some assembly is required before installation (If not done correctly the rack may wobble)
The hitch can be difficult to remove
The Allen Premier Locking Hitch Bike Rack is one of the best options when it comes to spare-mounted bike racks for SUVs. With a max weight capacity of 140 lbs, it is designed to carry up to 4 bikes. This bike rack comes with a patented locking hitch insert which installs into a 2" hitch and uses a wedge design to secure and tighten the rack to the receiver using keys. The Hitch insert is designed to be long enough to clear most rear-mounted spare tires. The frame is made to accommodate most bicycle designs with a large spine that is padded to protect your bikes from sustaining damage from the frame of the rack. Your bikes are strapped to two compound tie-down cradles for safety during transport.
As with spare mounted racks, the Allen locking hitch bike rack needs to be taken off when not in use since it is added length to your SUV beyond the tire, and this can be cumbersome to drive with daily. The wedge design lock is a bit too effective and makes the removal process difficult. The assembly and installation process can also be challenging for some people, which results in a wobbly bike rack on the back of the SUV.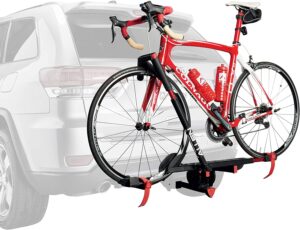 FAQs
1Which type of bike rack is better, hanging or platform?
It depends on how often you use your bikes and how much loading/unloading you are willing to do. If you are a frequent rider who is constantly loading and unloading your bike, then a platform bike rack is your best bet. This works well for people with heavy bikes as well. Hanging bike racks are a better alternative for people who remove the rack from their SUV and only use it occasionally.
2Is a roof bike rack better than a hitch rack?
For an SUV owner, a hitch bike rack is better. There is less lifting involved when loading your bike, which you come to appreciate after some time. Imagine loading your 40lb bike onto your 3rd gen Tacoma every time you need to ride! Hitch racks also make it easier to confirm whether your bicycle is secure and for you to detect any weakness in the setup before driving.
3Are all bike racks for SUVs the same?
Bike racks are not the same and you will need to understand the differences before you make your purchase. The best type of bike rack for an SUV is the hitch type, whether platform or hanging. This is because they require less lifting and are better for your back overall than rooftop racks. Using a hitch bike rack on your SUV also frees up the roof for other accessories such as a rooftop tent, recovery gear, and cans for extra gas. Hitch-type racks are also more secure and fit on a wider variety of SUVs than trunk-mounted types.
Be careful to pick the correct rack for the size of receiver you have on your vehicle. Although most racks are designed to fit 1 ¼" or 2" racks, they are not interchangeable. You will be required to purchase an extra accessory for a 1 ¼" rack to fit into a 2" hitch and vice versa.
4Verdict
Although making a decision can be tough, this is a comprehensive list of bike racks with a good option for everyone. If you have heavy bikes that require a sturdy alternative, then the Hollywood Rack for Electric bikes may be the best for you. Our budget pick for beginners or riders working with a limited expenditure is the Allen Easy Load 2-Bike rack. Although you get less of the frills, this is s sturdy bike rack that will suit most of your needs. If you are looking for something that offers more features, then either the Thule T2 Pro XTR or the Kuat Sherpa 2.0 might be the rack for you. Happy biking!
Mo Wanderi is an avid biking enthusiast who has participated in various long-distance charity rides, such as the 500in24 initiative, which aims to raise education fees and school supplies for underprivileged kids in Kenya. He is also a kickass copywriter, and a budding mechanic.